We recommend you download your data often while a survey is fielding (at low traffic times if you have a particularly large study, as these operations can take up computing power and respondents taking the survey could experience a decrease in performance). This provides an additional safeguard to avoid the possibility of lost data.
Downloading data makes a copy of the data file in the destination directory you specify; it doesn't move/delete the data from your server. In other words, whenever you download data, you are downloading a copy of all records every time (a cumulative process). For example, if on day one, 100 respondents complete the survey and you download the data, then on day two 75 more respondents complete the survey and you again download the data, 175 records will be downloaded on day two.
Click the Download link from the main menu and the following is displayed: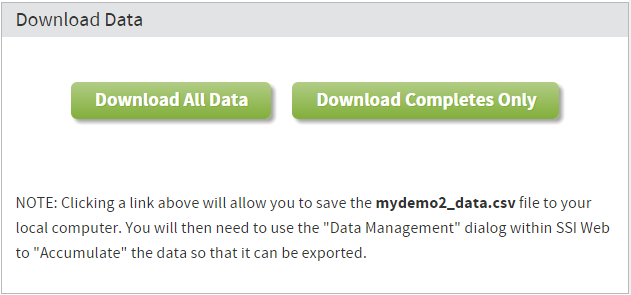 When you choose Download Completes Only, your browser asks you to supply a destination drive and directory. In most cases, you will probably specify the study directory on your hard drive. The accumulated data file, named studyname_data.csv, is copied to your hard drive.