Conjoint Analysis Software Tool
Conjoint Analysis Software for Product & Pricing Optimization
Run your marketing insights studies with the confidence of the best conjoint analysis software available from the industry experts. You'll make better informed business decisions utilizing the most powerful and flexible conjoint tool on the market.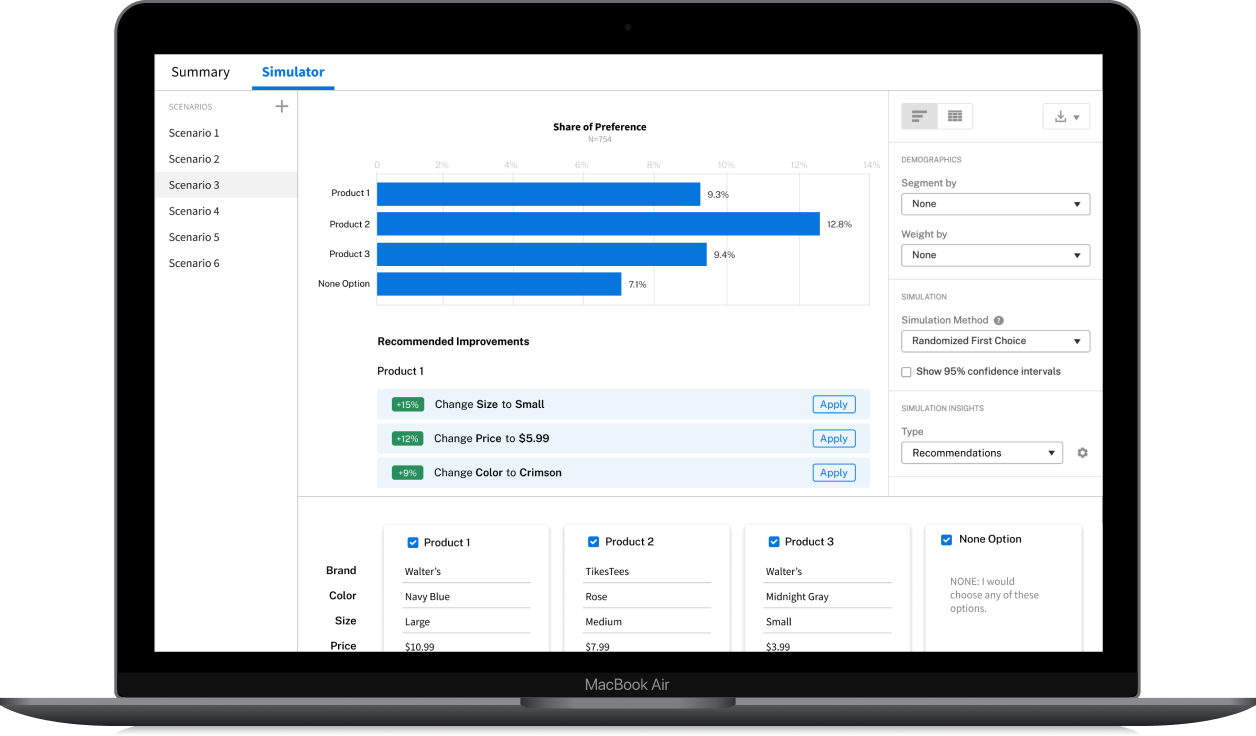 Industry-Trusted Conjoint Analysis Tools for 30+ Years
Conjoint Analysis Software Reveals Impactful Insights
Use conjoint analysis software to configure pricing and product attributes to find motivating combinations that move the needle before your product launch.
Our conjoint tool allows you to simulate your product against competitors and watch how your predicted share responds to product changes.
Uncover development priorities to better meet customer demands and increase your odds of a successful launch.
Our Simulation Insights Recommendation Engine helps you identify quick, actionable insights.
Make better business decisions with Sawtooth Software's Conjoint Analysis Tools
Conjoint Software Make Surveys Easy In Just Three Steps
1. Define your conjoint survey questions
Use our survey research software that enables you to quickly build an intelligent and elegant conjoint survey designs and questions. Includes advanced features like adaptive conjoint analysis, conditional graphics/prices, alternative-specific designs, dual-response None, free format design, and advanced level prohibitions make our conjoint tools the most powerful and flexible on the market.
2. Invite respondents and collect data
Invite respondents with a shareable link that you can easily paste into an email, or alternatively link to a panel provider for your sample. Then, keep an eye on the survey fielding progress with a survey summary report.
3. Analyze data and simulate outcomes
Set up your market landscape and simulate product outcomes with actionable insights to help you optimize your product or service offering.
"Sawtooth Software has been a remarkable and unique asset to the market research community. First, for the last 30 years it has led in delivering the newest survey and conjoint technology. Second, Sawtooth brings to its users reasonably priced, accessible, and understandable software accompanied with outstanding customer support. Third, and perhaps most important, its conferences, workshops and internal culture encourage the free flow of innovative market research ideas within the community of Sawtooth users."
Advanced Conjoint Analysis Software Design Features
Our conjoint analysis tools offer features and functionality that you won't find anywhere else.
Adaptive Conjoint Analysis
Adaptive CBC analysis captures in-depth preference information for relatively large attribute lists. Engage respondents by focusing on their personalized and most relevant tradeoffs.
Conditional Graphics/Prices
Present more realistic concepts that better mimic the real world look and pricing of alternatives in the marketplace.
Alternative-Specific Designs
Some product alternatives have more or different attributes/levels than apply to other alternatives in the same marketplace.
Dual-Response None
More accurate "None" (no-buy rate) without losing information when respondents want to tell you that in reality they'd not buy any of the shown concepts.
Advanced Level Prohibitions
Prohibit one level from occurring with another, or multiple levels from appearing with other multiple levels (n-way prohibitions).
Free Format Design
When you want to customize exactly how conjoint questions should appear, you can use your own HTML, CSS, and JavaScript.
Conjoint Analysis Outputs: Market Simulations Tell The Real Story
Use conjoint analysis software to wow clients and corporate executives by uncovering the right combination of product attributes that optimize your predicted market share using our sophisticated market simulator.
Set up multiple market scenarios with different product configurations to account for market variables and compare against competitors.
See how your predicted market share responds to product attribute changes using our Simulation Insights Recommendation Engine for quick insights, or do a dive deep with sensitivity analysis.
Unparalleled Friendly and Helpful Customer Support
We want you to succeed—from your first conjoint analysis study to your hundredth. That's why all licensed customers get access to our entire team of knowledgeable and friendly people who fully understand our conjoint analysis software and are ready to help you every step of the way!
Tour Our Conjoint Analysis Software Today!
Let our friendly, no-pressure staff show you the power of our conjoint analysis software tools and answer your conjoint-related questions.
Why Use Conjoint Analysis?
Conjoint analysis is the premier research method for predicting how people make difficult choices by making tradeoffs between the attributes of a product or service.
Conjoint analysis surveys take respondents through a series of tasks that presents them with a set of multiple product/service packages with varying attributes. Respondents are asked to choose which package is the best for each new set, thereby making tradeoffs and revealing which attributes truly matter to them.
Data collected from conjoint analysis studies can be used to predict market share and simulate product performance for current products or for a new product to introduce to the market.
Learn about conjoint analysis