Interview respondents without an Internet connection
Take your powerful surveys anywhere in the world
Field your surveys without an Internet connection. Surveys look and function the same in the app as they do in a web browser, so all your respondents will have the same experience.
Data collection just works
As soon as devices acquire an Internet connection, all respondent data that has been collected in the app is uploaded directly to the hosting server. That data is then seamlessly combined with any data collected via regular web-based data collection. Then all you need to do is download your data into Lighthouse Studio, and it's ready to analyze.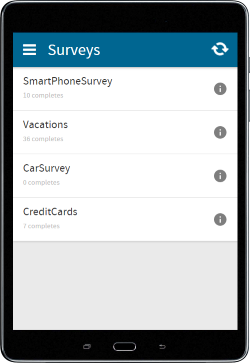 The app is simple and intuitive
Your interviewers will love the app. Downloading surveys and collecting data is easy. Begin conducting a survey with just a tap. Data automatically syncs with the hosting server once the device acquires an Internet connection.
Updating a survey is a breeze
Need to make a change to your survey? No problem. Your changes will be sent to all devices out in the field. As soon the device has an Internet connection, the survey will be updated. Interviewers don't have to do anything; it all happens automatically.
Works with Lighthouse Studio
The Offline Surveys app runs surveys created in Lighthouse Studio. The app supports all of the robust capabilities and custom code you're used to. (Learn more about Lighthouse Studio.)
Learn more about Offline Surveys
See the Offline Surveys Manual.
Download the app!
Offline Surveys for Android (Located in Google Play Store)
Questions?
+1 801 477 4700